Tips For Creating a Home Library Or Reading Nook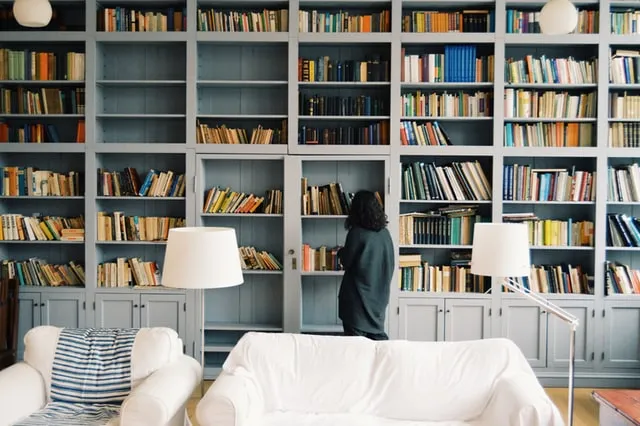 Nothing beats the joy of curling up on a comfortable chair with your favorite beverage and flipping pages of an engaging book. To maximize this relaxing reading experience, having a dedicated home library or reading nook is ideal.
Building the perfect reading nook doesn't need to be complex or time consuming – here are our top tips on creating an attractive yet practical home library or reading nook:
1. Create a Comfortable Environment
No matter if you create an entire room dedicated to your library or just utilize an empty corner in your living area, the key to creating an inviting atmosphere will be creating cozy seating arrangements such as sofas or chairs with soft fabrics upholstered with soft textures like velvet.
An inviting lighting scheme can make any reading nook more inviting and cozy. If your library is near or in front of a window, curtains or blinds could help filter sunlight during the daytime without becoming overly bright, while nighttime ambiance lighting such as wall sconces or lamps could provide extra mood lighting.
Your home library's colors can play an essential role in setting its overall atmosphere. Choose hues that promote restfulness and relaxation, such as muted grays or warm neutrals; while avoiding vibrant hues like sunny yellow or fuchsia that may stimulate too much.
2. Create a Space for Books to Live
Home libraries are a practical and stylish way to organize and showcase your bookshelf collection, regardless of its size or genre. Like any interior design project, however, creating the ideal reading nook will depend entirely on personal taste; nevertheless there are some key considerations worth bearing in mind as you create the space which will become your happy reading spot.
Start with a mood board to gather inspiration. Search social media sites such as Instagram and Pinterest for library ideas that speak to you, then use images from these platforms as visual cues to establish what the end result will look like.
Consider your shelving options carefully: from structured bookshelves to more free-form and creative shelving arrangements such as these floating shelves which showcase your library beautifully, there are so many creative and inspiring choices out there to choose from! Additionally, be sure to consider your seating arrangements; comfortable chairs will allow for deeper reading experiences!
3. Create a Quiet Space
Home libraries should provide more than bookshelves – they should provide an ideal space where you can relax with your book or magazine of choice in complete comfort. An inviting chair or sofa, blankets and accent pieces should all make up a cozy reading nook that invites relaxation.
Home libraries require strong shelving that's tailored to their personal taste, such as organizing books alphabetically or according to author last name instead of Dewey Decimal system. Get creative when it comes to finding storage solutions! For instance, consider organizing them by author last name or subject instead.
If you're working in a tight space, consider vertical storage like wall shelves that reach to the ceiling for added vertical space and to make books more accessible. Be creative by placing diagonal shelves; second-hand stores, estate sales, flea markets or online marketplaces may offer affordable furniture or shelving solutions.
4. Create a Stylish Space
Create your own home library or reading nook is an excellent way to show your passion for books. Additionally, this process offers the perfect chance to go through your collection and donate any duplicates or books you don't intend on reading again.
Once you've amassed all of the essentials for your library, the next step should be considering ways to make it aesthetically pleasing. A few clever design tips can help create an elegant aesthetic without breaking the bank.
Before beginning to organize books on shelves, ensure they are durable enough to support their weight. Consider installing tall shelves that extend all the way up to the ceiling for an attractive built-in effect. Furthermore, arrange books so their spines face forward; this helps create an even appearance and prevent dust build-up.
Do not overlook adding lighting. A well-placed lamp or sconce can add just the right touch of atmosphere without becoming overbearingly bright.